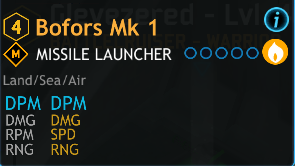 "Bofors Mk 1" is a placeholder for bridges' weapons. It counts as Hyper Rare, regardless of bridge quality, and it says it is a Thermal Missile Launcher that can target air units. However, not every bridge can target air units, not every bridge is thermal, let alone Hyper Rare, and no bridge is actually listed as a Missile Launcher. The slots are also equal to your bridge's slots.
Ad blocker interference detected!
Wikia is a free-to-use site that makes money from advertising. We have a modified experience for viewers using ad blockers

Wikia is not accessible if you've made further modifications. Remove the custom ad blocker rule(s) and the page will load as expected.