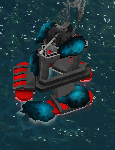 The Broken Tower is a unique obstacle found exclusively at the start of the Auckland mission. It is a Sea Cannon, covered in Plasticyte growths and smoking visibly.
As its name suggests, it is nonfunctional and therefore harmless, only serving as the first visible target of the mission.
Fortress Destroyer
Enemies
Enemies listed in parentheses () following another enemy are the elite form of that enemy. If there is no elite form listed, that means one does not exist or has not yet been added to the game.
Ad blocker interference detected!
Wikia is a free-to-use site that makes money from advertising. We have a modified experience for viewers using ad blockers

Wikia is not accessible if you've made further modifications. Remove the custom ad blocker rule(s) and the page will load as expected.