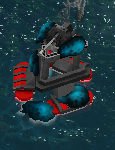 The Broken Tower is a unique obstacle found exclusively at the start of the Auckland mission. It is a Sea Cannon, covered in Plasticyte growths and smoking visibly.
As its name suggests, it is nonfunctional and therefore harmless, only serving as the first visible target of the mission.
Fortress Destroyer
Enemies
Enemies listed in parentheses () following another enemy are the elite form of that enemy. If there is no elite form listed, that means one does not exist or has not yet been added to the game.