Fortress Destroyer Towers
- Buckshot 12 -

Damage/Pellet
12
Damage per Minute
3168
Targets
Land/Sea/Air
Pellets / shot [?]
12
Rate of Fire
22/minute
Range
460m
Accuracy
70%
Critical Chance
5%
Weapon Class
Cannon
Damage Type
Ballistic
Slot Size
Small
Rarity
Common

"Some genius welded together a dozen 20mm barrels to create a short range shotgun style cannon with a 5% crit chance"
―Official Description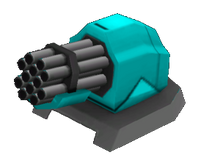 Buckshot 12 is a Common Cannon is Fortress: Destroyer. It has the lowest single-hit damage of all cannons, but it's also the weapon with the most pellets in the game. This is one of few cannons that can target air units. This also one of the few weapons which has in built critical chance, making it good for 'crit healing' modules. The Buckshot 12s power is only hindered by its relatively short range.
Ad blocker interference detected!
Wikia is a free-to-use site that makes money from advertising. We have a modified experience for viewers using ad blockers

Wikia is not accessible if you've made further modifications. Remove the custom ad blocker rule(s) and the page will load as expected.