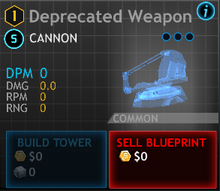 Deprecated Weapon is a placeholder for the deleted tower "Horizon." This serves no other purpose than to hold the inventory slot in which the Horizon occupied, if you owned one before it was removed. It counts as Common, but cannot be built, has zero on all stats, and sells for zero Gold.
Ad blocker interference detected!
Wikia is a free-to-use site that makes money from advertising. We have a modified experience for viewers using ad blockers

Wikia is not accessible if you've made further modifications. Remove the custom ad blocker rule(s) and the page will load as expected.