"Land and Sky, all is Blackwater!"
―In-game quotation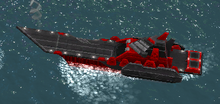 The Hive is the second standard boss introduced in the game. It is a large carrier.
The Hive has several slow-firing gatling gun weapons mounted on its hull and can spawn groups of Locusts to attack the player. After taking sufficient damage, it begins creating large waves in the water which push ships away and deal small amounts of damage.
The Hive is fairly easy to destroy, but may prove troublesome for ships with few or no weapons capable of hitting air targets.
Fortress Destroyer
Enemies
Enemies listed in parentheses () following another enemy are the elite form of that enemy. If there is no elite form listed, that means one does not exist or has not yet been added to the game.
Ad blocker interference detected!
Wikia is a free-to-use site that makes money from advertising. We have a modified experience for viewers using ad blockers

Wikia is not accessible if you've made further modifications. Remove the custom ad blocker rule(s) and the page will load as expected.