"< All humans are the enemy! >"
―In-game quotation
The
Kraken
is the fourth boss encountered. It begins appearing after the player completes
Tokyo
for the first time.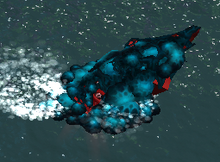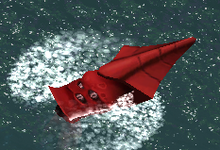 The Kraken has a variety of natural weapons that it can use against ships. It can pick up and throw rocks (or enemy vessels if they are available) at the player's ship using its tentacles, attack with the tentacles directly, and ram the player with its body. It can also spawn mutated Plasticyte to act as a barrier and damage the player, as well as submerge itself for short periods of time and render itself immune to harm. As the Kraken takes damage, the Plasticyte covering its body will be shed and it will use more of its tentacles to attack at once.
The Kraken's elite version is the Kraken v2.
Fortress Destroyer
Enemies
Enemies listed in parentheses () following another enemy are the elite form of that enemy. If there is no elite form listed, that means one does not exist or has not yet been added to the game.