"We are the many! You are but one!"
―In-game dialogue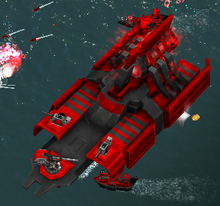 The Median is the elite variant of the Nexus boss.
As with all elite variants, the Median is much tougher, slightly faster and packs add-ons to its original abilities compared to its lesser counterpart. Unlike several of the other bosses, the Median does not gain any distinctly new abilities, but its rearward laser can now improve the damage of controlled enemies as well as their mobility. This enemy's weaponry has the same appearance as the "Repeller" and "Whirlwind" autocannons.
Fortress Destroyer
Enemies
Enemies listed in parentheses () following another enemy are the elite form of that enemy. If there is no elite form listed, that means one does not exist or has not yet been added to the game.