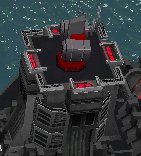 The Missile Battery is a defensive building found in a small selection of missions. It is the turret from the Missile Tower minus its tower.
The Missile Battery fires bursts of three missiles like all of the other basic Missile Tower variants. These missiles can be shot down easily with gatling guns or other weapons that can target missiles, nullifying its firepower.
Its elite variant is the Onslaught Battery.
Fortress Destroyer
Enemies
Enemies listed in parentheses () following another enemy are the elite form of that enemy. If there is no elite form listed, that means one does not exist or has not yet been added to the game.