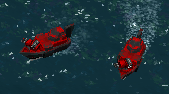 The Pirate is a weak elite ship found in many higher-level missions.
The Pirate carries a two-shot cannon with splash damage and is fairly fast. It is not as durable as many of its other elite brethren, but it is still tougher than most of the standard enemies. This enemy's weapon has the same appearance as the "Berserker" cannon tower.
Its regular counterpart is the Raider.
Fortress Destroyer
Enemies
Enemies listed in parentheses () following another enemy are the elite form of that enemy. If there is no elite form listed, that means one does not exist or has not yet been added to the game.