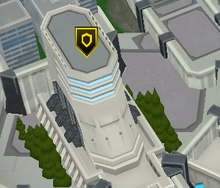 Only three Powerstations exist in the game, and all are located on the map "Seoul." Powerstations have very high HP and no armor, like the Electroguns that guard them, but are all required to stay alive to complete the mission. This ally also has no weapons, which is quite common among friendlies.
Ad blocker interference detected!
Wikia is a free-to-use site that makes money from advertising. We have a modified experience for viewers using ad blockers

Wikia is not accessible if you've made further modifications. Remove the custom ad blocker rule(s) and the page will load as expected.