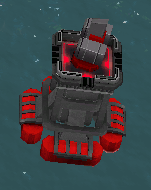 The Sea Missile is a defensive building found in a selection of missions. It is a floating version of the Missile Tower.
The Sea Missile is much like its terrestrial counterpart, firing bursts of three missiles at ships. Due to its aquatic location, it is vulnerable to ramming. Its firepower can be nullified by gatling guns or other weapons that can shoot down missiles.
Its Elite counterpart is the Splinter Tower.
Fortress Destroyer
Enemies
Enemies listed in parentheses () following another enemy are the elite form of that enemy. If there is no elite form listed, that means one does not exist or has not yet been added to the game.