Fortress Destroyer Modules
- Seafire -
Effects
Select an area in the water to start a fire
Additional Stats
Control Point module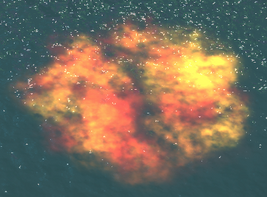 Seafire is a Control Point ability in Fortress Destroyer.
When activated, you will be prompted to select an area in the sea to target. When targeted, a missile will fall and start a fire on the water. It usually isn't considered to be a good ability since its AOE is quite small and it doesn't do a lot of damage (only 100 thermal damage per tick). The enemies can also move out of the fire which limits its effectiveness even more.
Ad blocker interference detected!
Wikia is a free-to-use site that makes money from advertising. We have a modified experience for viewers using ad blockers

Wikia is not accessible if you've made further modifications. Remove the custom ad blocker rule(s) and the page will load as expected.