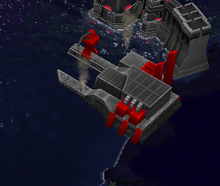 Shipyards are Blackwater buildings that appear in most missions. Shipyards spawn Blackwater ships such as Raiders, Rangers, and Skimmers.
The counterpart of the Shipyard is the Air Base.
Fortress Destroyer
Enemies
Enemies listed in parentheses () following another enemy are the elite form of that enemy. If there is no elite form listed, that means one does not exist or has not yet been added to the game.