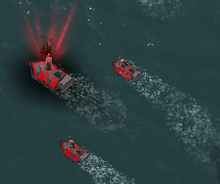 The 
Skimmer 
is a very weak enemy ship found in almost all missions.
The Skimmer is very fast and mounts a gatling gun turret, but is a pushover in terms of health. They will often appear in groups along with other ship types. This enemy's weapon has the appearance of the "Zipper" autocannon.
Skimmers are commonly summoned by bosses such as the Nexus and Kraken.
Its elite counterpart is the Speeder.
Fortress Destroyer
Enemies
Enemies listed in parentheses () following another enemy are the elite form of that enemy. If there is no elite form listed, that means one does not exist or has not yet been added to the game.